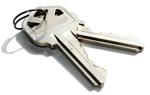 Whether you're a first time home buyer or an experienced investor, I'll develop the right strategy for the market conditions and your personal circumstances. It's always about beating the competition. In a slow market, that competitor is the team on the other side of the deal. In a hot market, the competitors may be the other buyers who are trying to get the same house that you want. We have an excellent track record of winning in every scenario.  There are many important questions to consider when purchasing a home. Avoid time-consuming and costly mistakes and put my expertise to use.
To get the ball rolling, all you need to do is fill out the form below or simply
get in touch
and I will help you find your dream home!